A room to treat yourself
Prix : à partir de 80€
19 to 20 m²

1 to 2 pers

1 double bed

terrace access

bathtub

air conditioner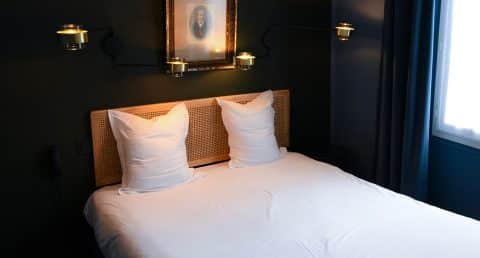 For the you who's dreaming of a romantic holiday
Come sing a serenade at our hotel in Sarlat! Our SERENAAD room offers a wide range of services for a cosy lovers' holiday: access to the terrace, a bathroom with a bathtub, modern furniture,…
Magda and Egbert lived the romantic holiday of their dreams
They're from the Netherlands, and since they're kept very busy because of their demanding jobs, they choose to take a break and go on vacation together in Dordogne !
A romantic holiday in Dordogne
The Dordogne with its riche history, nights spent at a romantic hotel, dinners at a restaurant, cultural activities, these are the ingredients to make a perfect stay for couples ! This region was recommend to the couple by some of their friends, who had loved it, which was also the case for Magda and Egbert, who were enchanted by their stay.
A romantic hotel room
When choosing a place to book a room, they chose the NAÂD hotel due to its central location in Sarlat. They were warmly welcomed and received a lot of advice on how to best enjoy the region. They really liked the cosiness of their room, more specifically the terrace, and the bathtub, in which they took long, relaxing baths!
Magda and Egbert's review
"There's no better hotel to stay at for a romantic vacation! A bathtub, a terrace, comfortable bedding and ideal location! We highly recommend NAÂD to people coming to the region."