A room for a big family
Prix : à partir de 75€
23 to 24 m²

3 to 4 pers

1 double bed

1 single bed

1 convertible armchair

air conditioner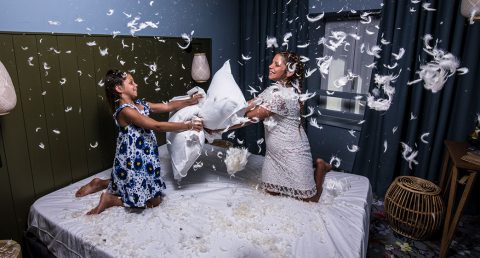 For your family vacation in Sarlat
Choose one of our COUSINAAD rooms: they can welcome up to 4 people. Decorated in natural tones, with wood furniture, they're peaceful, ideal after a day os sightseeing with your children!
Aurélie chose this hotel room for her family
She could have gone to Camargue or Provence, to Paris or to Disneyland, but she went to Dordogne. She wanted a family friendly hotel, which she found with NAÂD.
Choosing Dordogne for a family holiday
Aurélie has two kids, a 5 year-old girl and a 9 year-old boy: the latter loves knights, and can't wait to visit the region's medieval castles. The castles and its princesses are also to her daughter's liking. Besides castles, the region offers a lot of different activities for children, like amusement parks or sports activities, like cruising the Dordogne river on a canoe. Aurélie and her husband, who love to eat, especially duck, then chose Sarlat to stay in.
NAÂD, a family-friendly hotel
When searching for a place to stay during the family's holiday, Aurélie hesitated between a bed and breakfast and a hotel. But since she wants this trip to also be a holiday for her, she decided to stay at a hotel, and chose NAÂD. Located in Sarlat's centre, she also could easily park her car thanks to the hotel secured parking and walk through the city. Breakfast at the hotel, picnic at noon during activities and dinner at the restaurant in the evening : this is the receipt to her ideal holiday.
Aurélie's review
"We were welcomed very warmly! Nadège gave great advice on the activities that would be nice to do with the children and family-friendly restaurants. Everyon was satisfied, and we leave very happy to have stayed her!"