A room to take long hot baths in
Prix : à partir de 80€
19 to 20 m²

1 to 2 pers

1 double bed

bathtub

air conditioner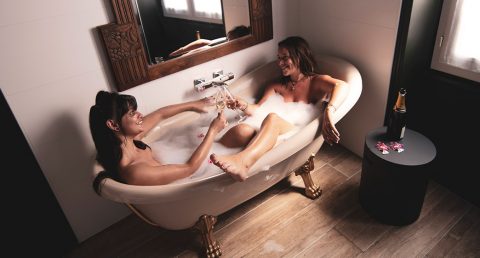 For the you who loves to relax
The COQUINAAD room offers you a romantic stay in the heart of Sarlat. After a walk or a night partying, take a relaxing hot bath in your room.
Nadège's review
Her review
Nadège the owner loves this room, she finds its name funny, and at the same time, she designates this room under the sign of a romantic evening, of freedom in a cozy atmosphere filled with softness.
"To love is to know how to say I love you without speaking, Victor Hugo inspired me a lot on this room for the pleasure of meeting each other. I can take care of planning your romantic getaway, you can trust me!"
I wanted this room to give off a romantic feeling, which is why it has a spacious bathroom with a shower and a bathtub, so our clients can take care of themselves and spend some quality time with their partner. We may not be in Paris or Bali, but the Dordogne can be equally romantic : our Eiffel Tower are our cobbled medieval streets, our prehistorical caves and our heritage as a whole. So, for a romantic holiday, come to NAÂD in Sarlat!
Our COQUINAAD room was specially created for couples : it's the hotel room with the biggest bathroom, opening to a cosy bedroom. It's my favourite room. Do I have a particularly romantic soul? Who knows!