A room to take a breath of fresh air
Prix : à partir de 75€
13 to 15 m²

1 to 2 pers

1 double bed

terrace access

air conditioner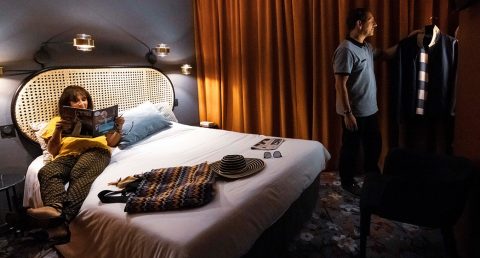 For the you who wants to go outside
Our ESPLANAAD room has an access to a shared terrace, so you can relax easily, without putting a foot outside of the hotel. What a bargain!
Stéphanie and Christian loved this room's charm
The green roads of Carsac, Montfort, Beynac-et-Cazenac… Stéphanie and Christian came to Dordogne with their trekking shoes! That's why they booked a room in Sarlat, from where they can easily go trekking.
A charming room to rest
Their hotel room had to be comfortable so they could spend restful nights to restore their energy, so a cosy bed and a warm shower were a must-have. However they didn't want to sacrifice charm for it : when making a reservation they paid particular attention to our rooms' decoration which convinced them to stay at NAÂD.
The advantage of a terrace after a long day
When they've walked all day long, taking off their trekking shoes is a real pleasure, and even more if they can do it on a terrace, so they can still enjoy being outside, but this time on a deckchair. Because after spending a day in nature, you don't always want to lock yourself inside. This is part of this room's charms!
Stéphanie and Julien's review
"Staying here was a real pleasure! This hotel is a haven of peace and restful nights, with smiling staff on top of it. We spend a lovely holiday in a room full of charms"