A room with the essentials
Prix : à partir de 65€
13 to 15 m²

1 to 2 pers

1 double bed

or 2 single beds

air conditioner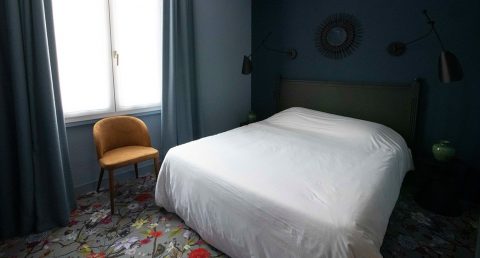 For the you who gets to the point
Enjoy a low-cost room in the heart of Sarlat. Our COPINAÂD rooms are the best place to stay when visiting the Dordogne.
Bastien And Nicolas chose this room!
The two friends had wanted to spend a few days in the countryside. Even if the lived in the same region, the Nouvelle-Aquitaine, they'd decided that a good holiday didn't have to take place on the other side of the world. So they chose to stay local and discover the Perigord, a place in their region they never went to. They had a well-planned holiday, from exploring neolithic caves to discovering the local gastronomy; the only thing left was to booka room at a hotel, with a limited budget.
A low-cost room for friends going on an adventure
To them, a hotel room is firstly a pied-a-terre. It's the place when they go back to to sleep off a long day of exploring. What they need then is the essential : a comfortable bed, a bathroom to take a shower and a good breakfast to start the day. However, traditional and dusty hotels aren't their cup of tea. What they like is design and modernity. They were charmed by our attractive prices, our well-thought rooms and ideally located hotel.
NAÂD can be a low-cost hotel perfect to save money on exploring the region.
And the gastronomy ! Bastien and Nicolas love duck, and planned on eating it every time they could. Which is why the number of good quality restaurants around the hotel was a plus for them ! This was the perfect holiday for them.
Their review
"The strong point of this hotel is first and foremost its location: thanks to it, we could visit the city and go out at night entirely by foot. It was a holiday we would love to experience again!"