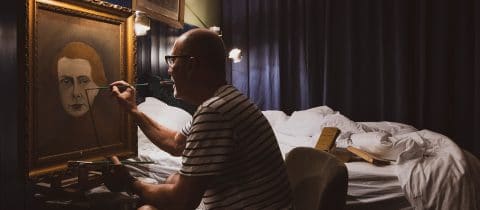 In 2020, the world entered a new decade, and the hotel got a new owner: after "Lion d'or", then "Les Remparts", "Naâd" became its new name. Nadège has a lot of projects for her establishment to welcome people visiting the region.

Modernize it by imagining people's desires when coming here, mix cosiness and practical, design and warmth, independence and services. This was Nadège's challenge when she conceived Naâd..
From Lion d'Or to Les Remparts : a hotel in the heart of Sarlat
One of the things which we liked immediately about this place was its location, which made all of Sarlat's cobbled streets accessible by foot. It's an important advantage, because it's by walking through it that you can best discover Sarlat. Nadège isn't from the region: she fell in love with it, and when she came to visit, she never left, and stayed to welcome tourists.
After a few months of renovations, the hotel was brand new, leaving Les Remparts behind and becoming the boutique-hotel Naâd, its name coming from its owner's name "Nadège", being a tangible form of her smile and hospitality.
Naâd, a modern hotel rooted in tradition
We spend the best nights surrounded by old stones. And old stones are the hotel's first characteristic. What's better is that you won't have to worry about modern comforts ! During renovations, the owner made sure to install WIFI, a lift, a bar, desks or console tables, modern furniture… We did our best to make this place the best for our stay in the city.
Welcoming you is what we do best
And that's because Nadège loves human contact the most: building relations with people around you, take care of tourists and offer them the best services. She know how to appreciate the landscape's beauty and loves to explore new places: Nadège toured the whole region and will tell you all about its marvels. She's the best person to go to when you want advice on cultural activities, sights… And as a lover of gastronomy, she'll also give you the best addresses in Sarlat…