NAÂD, a hotel in the heart of Sarlat
Capital of Périgord noir, Sarlat is a city you have to stop to when coming to the Dordogne Valley. Naâd, located in Sarlat's historical centre, offers the possibility of an unique experience of it.
For a night or more, for pleasure or business, alone or in family, to book a room in our hotel is to be able to explore the medieval streets by foot, discover the region's heritage, and first and foremost to relax! Each of our 25 rooms is made especially so you can enjoy your stay to the fullest.
A hotel in the centre of Sarlat
Our hotel first distinguishes itself but it's location. In the heart of Sarlat's centre, you can access all of its activities, shops and monuments by foot. For example, you'll be 5 minutes away from the Saint-Sacerdos cathedral (place du Peyrou). You'll also be able to enjoy all of the restaurant à capital of gastronomy can offer, a few steps away from the hotel. A few parking places are disponible for you to park your car, remember it when booking your room!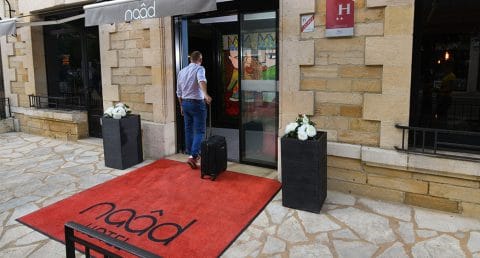 A boutique hotel in Sarlat
Our hotel differentiate itself by its independence. We put the concept of service as the top priority of our business. Taxi reservations, advice for sightseeing and dining out etc. We'll do our best so your stay here will be a unique experience.
A personalized welcome is indeed waiting for you! Your nights at our hotel will be spent in comfort and in a cozy atmosphere.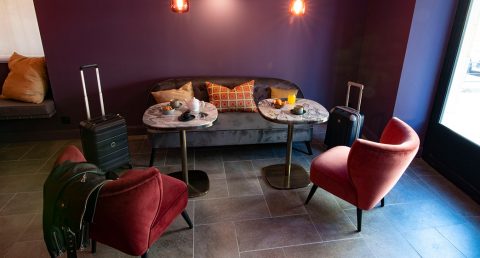 A modern hotel in a medieval city
Coming to Sarlat is of course to visit its heritage, the incalculable number of historical monuments, its medieval streets, its gastronomy and market, the nearby neolithic caves… But it doesn't necessarily mean that the hotel will be prehistoric as well !
ON the contrary, our hotel has all the modern-day interior design and comforts, such as WIFI, a lift, a lounge… For us, modernity gos hand in hand with practicality!
A hotel full of charms in the centre of Sarlat
A night at our hotel is enough for the magic to happen ! Enjoy a cosy stay at Naâd : a service that will make you feel at home thanks to the warm staff, a comfortable bed in a modern room, bathtub in some of them or access to a terrace for relaxing, a breakfast made of local products… Our hotel's charms won't leave you indifferent!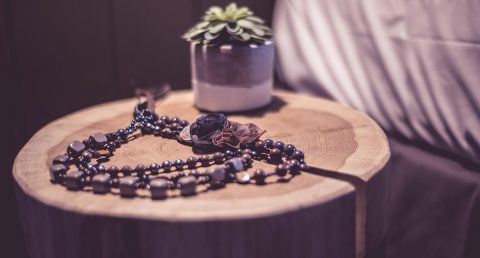 The hotel's story
Naâd comes from the name of the owner, Nadège, a jovial woman who knows Sarlat like the back of her hand. IN love with the region, she will do much more than just offer you a room to stay in : she'll also share with you some of the city's secrets, give her advice on the best things to do and see, and make sure you'll receive the warmest welcome.
Book the room that suits you and discover our prices.
We look forward to meeting you at our hotel in Sarlat!