NAÂD, a hotel in the centre of Sarlat
Do you want to stop at Sarlat-la-Canéda? The NAÂD hotel mixes tradition and modernity: forget about the numerous hotels without personality and far from the centre of the city. Here, activities, walks and restaurants are easily accessible from our establishment.
Located in the heart of the city, the hotel benefits from an ideal location. You can enjoy without effort all of what Sarlat can offer. Let yourself be tempted by one of our 25 rooms and make the best of your experience of the region.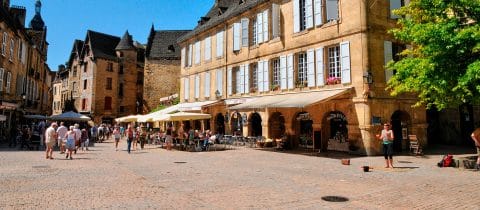 Sarlat's heritage close to you
Besides the hotel's charm, people come stay at NAÂD for its perfect location in the city centre. Sarlat has a reputation of having a rich culture and history. After spending a restful night in your personalised room, you can discover this medieval heritage entirely by foot.
Its architecture of exception and countless characteristic streets and alleys offer the perfect opportunity for walks. The Saint-Sacerdos cathedras is only 400m away from the hotel, and the Sainte-Marie church 250m. You can go on to the Manoir de Gisson and the beautiful Sainte-Marie fountain, also 250m away from your room.
This architectural heritage is made alive, from summer to winter, by the animation of Sarlat's market, which has been the cause of the centre of city's good reputation for decades. We advise you to stroll through it and meet with the multiple craftsmen. You'll leave Sarlat with your luggage full of lovely souvenirs!
A room in Sarlat close to the best addresses in the city
The pleasant environment is completed by a vast gastronomical offer, one of Sarlat's best points of pride. After having a drink at the hotel's lounge, Nadège will tell you about the best places to eat out in the city. Brasseries and restaurants with th best ratings are just around the corner.
A few steps away from the hotel, we recommend L'Adresse, the Bistrot de l'Octroi or Chez Antoine, all with good ratings. This will give you the opportunity of experiencing the delicious cuisine of the Dordogne Valley and Perigord. Our proximity to the centre of the city is a way for you to enjoy your evening without having to worry about driving back, giving you more freedom when going back to your room.
An original stay at a hotel in the centre of Sarlat
When talking about the Dordogne and the Perigord, mentioning its rustic and traditional environment is inevitable, an antique image that a lot of hotels and gite in the region imitate. The NAÂD boutique hotel broke free from that reputation: here, the keywords are modernity, hospitality and an attractive location.
As idyllic as our hotel can be, it's also worth it to leave it for a few hours and go sightseeing in Sarlat. From NAÂD, the city centre is entirely accessible by foot, so you can leave your car safely parked in a secured parking 150m away from the hotel! However, don't forget to make a reservation beforehand, the number of places are limited.
At NAÂD, we do everything to make sure your stay in Dordogne Valley will be unforgettable. After a day of sightseeing in Sarlat, your nicely decorated and furnished hotel room will make your night as restful as it can be. Our modern hotel offers an array of rooms to answer to the demands of all. If you wish to spend a night in one of these rooms, we recommend you make a reservation ! Forget about your flat or your house, our hotel offers you a tailor-made stay.