Boutique hotel in Sarlat, in the heart of the Dordogne Valley
Do you want to visit the Dordogne Valley and are searching for a cosy hotel, modern and with an atypical atmosphere ? The NAÂD boutique hotel is the perfect place for your stay in the centre of Sarlat-la-Canéda.
Staying in France at a renowned hotel and being welcomed by a somewhat stiff, impersonal staff and non-existent service can be a regular occurrence. And yet, this kind of hotel benefit from a better location – in cities centres – than most small gites in France. With NAÂD, you can make a compromise, and have the better of both worlds: our hotel has the envied location of a big hotel, and the cosy atmosphere and hospitability of a small gite.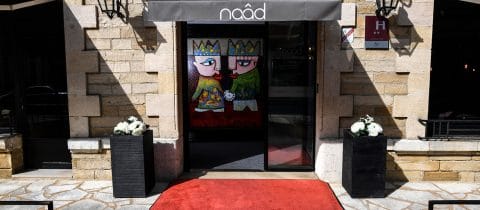 A small boutique hotel with extensive services
Still less known than more conventional hotel concepts, boutique hotels take the best of traditional French hotels. At NAÂD, you can enjoy the gite atmosphere, services equivalent of a renowned hotel chain, and the freedom of an Airbnb. A boutique hotel shakes up the norms and offers a compromise for its clients in search of authenticity and luxe.
Hotels in Paris or Bordeaux aren't the only ones with ideas and innovations. The NAÂD hotel took inspiration from an American concept and applied it in the heart of the Dordogne Valley. Our boutique hotel isn't affiliated to any hotel chain. The point of our concept is precisely to break free from traditional norms by offering a unique option. Nadège and her staff are giving their all in order to adapt your stay in Sarlat to your liking.
A comfortable hotel room with an original design
Another characteristic of our hotel is its refined design. It can also be considered as one of our top priorities. We want our clients to be in awe and immediately have a change of scenery. From the entrance hall to the common spaces and bedrooms, the hotel interior design is immaculate.
Our ambition is to communicate with everyone, but also to each individual staying at our hotel. In order to do so, each hotel room is unique and answer to specific desires. We advocate for diversity, originality, and we leave nobody out.
A far cry from renowned hotels without any personality, you'll be able to enjoy a room with character: be it the bed, the furniture or the decor, we pay attention to every detail.
A stay at a boutique hotel for a cosy atmosphere in the city centre
A smaller hotel can offer as high-quality services as a renowned one. However, with NAÂD, luxury stays casual and benevolent. We know how uneasy hotel chains' standards can make people. This is why our hotel's environment is the opposite: warm, intimate and with a welcoming staff.
You will love being taken care of by our staff during your stay in Sarlat-la-Canéda. Our team adapt themselves to your wishes, be it your breakfast or personalised services. NAÂD welcomes each of you as its important guest. Thanks to its privileged location, you may only need to walk 400 m until you reach the Saint-Sacerdos cathedral, a proximity to the city centre that will also make your search of a bar or restaurant very easy!
The NAÂD boutique hotel has 25 rooms disponible at different prices, for a week-end or a longer stay. Before making a reservation, take a look at the rooms' pictures and choose your favourite.